The First Ukrainian Music Olympiad in 1931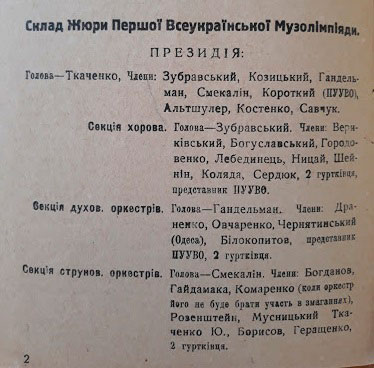 The first All-Ukrainian Music Olympiad was held on May 1 – May 4, 1931, in Kharkiv (the capital of Ukraine at that time). The organizer of the Olympiad was "Narcomos" of Ukraine (modern Ministry of Education). Over 60 professional and amateur teams and over two thousand performers took part in the competition.
The Music Olympiad was carried out in several stages. Preliminary competitions were held in villages, districts, and towns. The peculiarity of the Olympiad was also that amateur teams and professional performers competed separately, independently of each other, shall we say, in different divisions.
The jury in the "choir section" had such prominent figures as M. Verikovsky, N. Gorodovenko (at that time the head of the State Chapel "Dumka"). The chairman of the "Choir section" was V. Zubravsky. In the section "String orchestras" the chairman of the jury was Smekalkin. The jury included the following musicians: Gaidamaka, Komarenko (head of the orchestra of folk instruments), J. Rosenstein (head of the Symphony Orchestra of the Ukrainian Radio Center (now Honored Academic Symphony Orchestra of the National Radio Company of Ukraine)) and others.
Gandelman was the chairman in the "Wind Orchestra" Section. The jury also included Dranenko, Ovcharenko, Belokopytov, and others. Also on one of the days of the Music Olympiad Professor I. Braudo gave a lecture on musical themes.
The anthem of the Musical Olympiad is "Solemn March" by B. Lyatoshinsky, which was declared an obligatory musical piece for professional wind orchestras.
An interesting fact is that at the opening of the Olympiad a festive concert dedicated to the 10th anniversary of the State Chapel "Dumka" was held. Among the winners of the Olympiad was noted Poltava Chapel (now – the National Honored Chapel of bandurists of Ukraine). The Poltava Chapel won the first prize in the Olympiad.