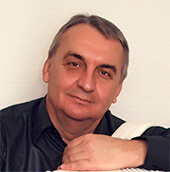 Dear friends!
I congratulate the participants, organizers and guests of Ukrainian Music Contest "The Voice of the country".
I hope that the contest will promote the discovery of new talents, enrich art artistic traditions, improvement of professional skills to become your Gradus ad Parnassum. I hope that this competition will give each participant a creative inspiration and unforgettable experience.
I wish all participants and their teachers a peaceful sky, good luck, happiness and joy of communicating with music, compelling creative achievements, good health for many years, progress in the implementation of all projects!