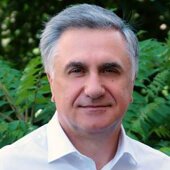 I congratulate the talented artistic youth of Ukraine,
their mentors, judges and guests of
Ukrainian Music Contest
"The Voice of the country".
For the third time Borys Hrinchenko Kyiv University is a partner of this major art project. It is nice to feel that "The Voice" was so powerful, colorful. It is heard from different corners of our Ukraine, claiming the ideals of peace, love and kindness. Another Greek philosopher Plato said that music inspires the world, supplies soul with wings, contributes flight of imagination, the music adds life and joy and music can be called the epitome of everything beautiful and just sublime. I believe that the power of art today will help unite our country together.
I wish all participants good health , vivid impressions, success and inspiration!